Set a better standard for your customers!
Quality shopping bags at a bargain - our program is designed to present you with a "stock" printed retail bag. Our plant manager and sales manager have worked together to find the most common plastic shopping bag sizes as well as the most economical sizes to manufacture. By offering this select line of retail bags, the customer will get a GREAT bag at a GREAT price delivered in as little as three weeks from approvals.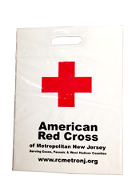 Reinforced header - strengthens handle and reinforces bag opening
High quality white low density polyethylene
​
2.0mm full spec - surpasses industry standard
This bag is perfect for trade shows, corporate outings, and retail stores!
Width
Price per Thousang Bags!

10,000 bags
Width x Length
5,000 bags
20,000 bags
Click Here for additional pricing and ordering information 
Trust your goods to our bags!
Order in Bulk to Save Money
With savings like these, you can stock up for the whole year!
Call for more information.